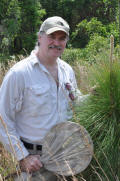 Biographical Sketch
Dr. James L. Castner
14142 SW 70th St., Archer, FL 32618
(352) 495-9949
Academic Credentials
<![if !supportLists]> <![endif]>M.S. and Ph. D. in entomology,

with minors in botany and Spanish

, University of Florida

B.S. in biology, Rutgers University

Post-doctoral courses in human anatomy and physiology<![if !supportLists]> <![endif]>

<![if !supportLists]><![endif]>Florida K-12 teacher certification tests passed in science and Spanish

Currently adjunct faculty in biology, Pittsburg State University
Career
Dr. Castner's photographs of the insect world and rainforests have appeared in a variety of books and magazines including most college biology textbooks. He calls on expertise in photography, entomology, biology and Spanish to create and publish works bringing scientific topics to both professional and general audiences.
Colleges and universities throughout the U.S. use his photographic atlases of entomology and botany. He leads teachers, students and naturalists on natural history tours of the Amazon Basin. He has photographed insects and plants throughout Central and South America, including more than 50 trips to Peru to study tropical insect biodiversity. He has also traveled to Ecuador, Venezuela, Trinidad, Brazil, French Guiana, Argentina, Uruguay, Bolivia, Panama, Costa Rica, Honduras, Mexico, and Puerto Rico.
He is an authority on the authentication of tsantsas, or shrunken heads, and in 2007 published a novel called The Tsantsa Homicides. Dr. Castner is often called upon as a consultant in many fields.
Photographic Publications
National Geographic, Natural History, International Wildlife, Ranger Rick, Your Big Backyard, Kids Discover, National Geographic WORLD, and Tribal Art.
Books (Feline Press except as noted)
<![if !supportLists]>· <![endif]>Photographic Atlas of Entomology and Guide to Insect Identification
<![if !supportLists]>· <![endif]>Photographic Atlas of Botany and Guide to Plant Identification
<![if !supportLists]>· <![endif]>Field Guide to Medicinal and Useful Plants of the Upper Amazon
<![if !supportLists]>· <![endif]>Forensic Entomology – The Use of Arthropods in Legal Investigations (co-editor with Jason H. Byrd, CRC Press)
<![if !supportLists]>· <![endif]>Forensic Field Identification Cards
<![if !supportLists]>· <![endif]>Shrunken Heads – Tsantsa Trophies and Human Exotica
<![if !supportLists]>· <![endif]>The Tsantsa Homicides (novel involving shrunken heads and insects)
<![if !supportLists]>· <![endif]>Amazon Insects – A Photo Guide
<![if !supportLists]>· <![endif]>Explorama's Amazon – A Journey Through the Rainforest of Peru
<![if !supportLists]>· <![endif]>Rainforests – A Guide to Research and Tourist Facilities at Selected Tropical Forest Sites in Central and South America
<![if !supportLists]>· <![endif]>Overmodeled Skulls (contributor), Arthur C. Aufderheide, editor
<![if !supportLists]>· <![endif]>Deep in the Amazon (children's book series, Benchmark Books)
Television and Film
<![if !supportLists]>· <![endif]>The New Detectives – Web of Clues (The Discovery Channel, produced by New Dimension Pictures, 1997. Interview on insects in general and in forensics.)
<![if !supportLists]>· <![endif]>Web of Life – Exploring Biodiversity (Public Television, produced by WQED in Pittsburgh, PA, 1995. Interview on rainforest diversity.
Goals
To observe, photograph, and study insects in all the major rainforests of the world including Borneo and New Guinea. To bring the study and appreciation of nature to students and teachers at all levels.
Most Admired People
Richard Francis Burton – Explorer, linguist, writer, diplomat

, swordsman, sollder. Translator of the Kama Sutra and 1001 Arabian Nights. Discoverer of the source of the Nile.

Robert A. Heinlein – Writer, visionary, futurist

, patriot.

Exposed prejudices and closed-mindedness and championed the value of tolerance through his many works of fiction. Author of Stranger in a Strange Land and The Glory Road.

Francis of Assisi - The patron saint of animals and the environment. A man who respected the planet and all its life. Although wealthy, he set his riches aside to find happiness helping the poor.
John Wesley Powell - Explorer of the Grand Canyon, linguist, ethnographer, cultural anthropologist, soldier, geographer. Accepted by Native Americans as a friend, he became one of their strongest proponents, and directed cultural studies of their societies as the first director of the U.S. Bureau of Ethnology.
Personal Note
I much prefer instructing in rainforests and field locations to classrooms. As a freelance writer, photographer, and consultant, I enjoy the freedom of making my own schedule. Through my travels I have made many friends and contacts in exotic locations that are willing and uniquely capable to help with the logistical support necessary for field-based courses and instruction and eco-tours. A seminal experience while still a graduate student was co-supervising more than 200 lay volunteers on the Amazon Katydid Project, successfully sponsored by Earthwatch over a period of twelve years.